Exploring the Physics of Inflation
The year 2013 will be exciting and full of new results based on the measurement and analysis of CMB temperature fluctuations, polarization, and LSS data. The Planck satellite is expected to provide new cosmological information and release all-sky CMB maps with unprecedented quality in the early part of 2013. These new results, along with the information that will be produced by on-going and planned CMB and LSS experiments will be a very important contribution to improving our knowledge on the inflationary period of the universe. The meeting will focus on the physics of inflation from an observational, theoretical, and instrumental perspective. Special emphasis will be given to results derived from the forthcoming polarization data.
The conference takes place in the context of the Spanish Consolider-Ingenio Project known as EPI: Exploring the Physics of Inflation. There will be a limited number of invited talks in order to allow the majority of the time for contributed discussion.
The conference will be in Santander, which is located on the northern coast of Spain. Santander is a popular summer destination surrounded by some of the most popular beaches in the north coast. The dates of the conference were chosen to avoid the peak of the tourist season, in order to offer a more relaxing (and affordable) environment.
Scientific Organizing Committee (SOC):
Paolo de Bernardis
John Carlstrom
Fabio Finelli
Eiichiro Komatsu
Reno Mandolesi
Enrique Martínez-González
Sabino Matarrese
Lucio Piccirillo
Rafael Rebolo
Uros Seljak
Joseph Silk
Benjamin Wandelt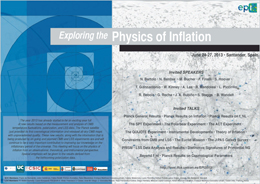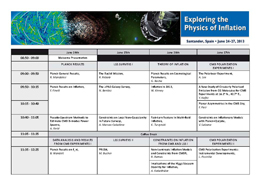 Local Organizing Committee (LOC):
Belén Barreiro
Laura Bonavera
Elizabeth E. Brait
Fracisco Casas
Marcos Cruz
Jose M. Diego
J. González-Nuevo
Enrique Martínez-González (Chair)
Diego Herranz
Marcos López-Caniego
Airam Marcos-Caballero
Raúl Fernández-Cobos
David Ortiz
Patricio Vielva